Welcome to MACE - water monitoring solutions
NEWS
2012-11-29
MACE WaterVine

Patterson ID (CA) enjoy trouble-free monitoring 
Come see us! ACWA, San Diego
MACE California Workshops January 2013
We value your feedback
Read more...
On the WaterVine December 2012
Patterson ID (CA) enjoy trouble-free monitoring

After season long testing at Patterson Irrigation District (PID) by ITRC way back in 2002, PID chose to install Mace flow monitoring systems throughout their district. To this day, Patterson ID enjoys

uninterrupted

water flow reporting and logging with Mace systems and have little maintenance costs. Mace systems are cost effective out-of-the-box flow monitoring solutions for nearly any flow application in California: turnouts, underground laterals, road culverts, pump stations, multiple pipes, flumes and weirs, even rated sections. Interfacing with telemetry systems is simple now or later, or users can install our free data hosting modem solution –

MACE WebComm

!
Come see us!
ACWA, San Diego

MACE USA will be demonstrating its irrigation water monitoring solutions at the fall conference of the Association of California Water Agenices (ACWA), in San Diego, 12/4 to 12/7, so please visit us at Booth #717 where you can see first hand, how our meters can enhance water management.
MACE California Workshops
January 2013

MACE would like to announce that a series of workshops will be given in California during the month of January 2013. Take this opportunity to share some information with those in the water-world about flow monitoring solutions to make the job easier as well as more cost effective. These will cover MACE's background, XCi systems, sensor technology, applications, installation and an optional tour of MACE systems in operation.

Contact MACE USA for more details and to sign-up.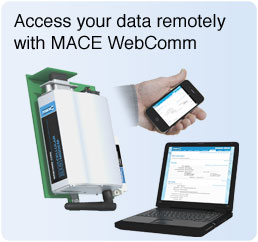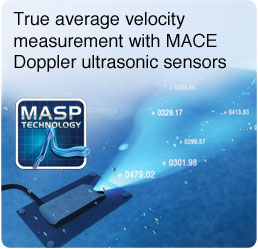 MACE specialise in designing and manufacturing smart packaged monitoring solutions for Industrial and wastewater markets, agriculture and environmental monitoring.
Our unique XCi smart monitoring system provides flexible and expandable site monitoring all housed in a rugged lockable enclosure. Battery, solar panels, and our unique multiple card interface enable the user to control and log multiple sensors remotely from a single XCi device.
Now with the additon of a MACE WebComm card you can access your data remotely and view on your PC or smartphone.
Our Doppler ultrasonic flow sensors with MASP technology and no moving parts are easy to install and virtually maintenance free.