Manufacturer of Electronic Flow Monitoring since 1968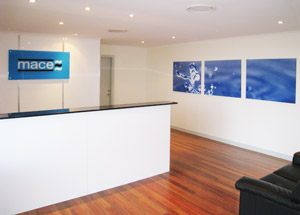 MACE is an Australian family company founded in 1968 by electrical and mechanical engineer Lawrence Campbell who recognized the importance of flow measurement and flow monitoring in the global environment.
For 40 years MACE has designed and manufactured electronic monitoring instrumentation including ultrasonic flow meters, data loggers and controllers. Continued commitment to research and development over the past three decades has ensured MACE's provision of the most advanced high technology equipment for the agricultural, industrial and environmental markets.
MACE has a core team of research and development engineers who are focused on providing customer driven products that are both easy to use and withstand the test of time in often remote and harsh environmental conditions.
MACE is committed to providing its clients with personalized service, training and technical back-up to ensure successful monitoring.
40 years of innovative design, research and manufacturing
FBQ 100 Laboratory Recorder

1973 – MACE releases their first high speed, versatile laboratory recorder suitable for a wide range of industrial and scientific applications. A particularly important feature of this instrument is its ability to accurately measure and record weak signals in the presence of large interference voltages.

DFR-77 Data Logger

1977 – The world's first commercial EPROM data loggers, the MACE DFR-77 were delivered. Hundreds of these instruments were used throughout Australia and Papua New Guinea, working under the harshest imaginable conditions. The EPROM data recording technique proved to be the most reliable method of electronic data storage.

HydroMace TRS

1984 – MACE introduced the HydroMace system which gave environmental field stations the combined capabilities of data logging, control, telemetry via telephone, radio or satellite and intelligent response to both computer or human interrogation.

HVQ Flow Survey System

1988 – MACE introduced the HVQ Doppler ultrasonic flow survey system for open channels and sewers and developed the PHONEMACE synthesised speech system which allowed remote automatic stations to communicate with human operations in any language in a natural voice.

HydroMace 2000

1992 – The HydroMace 2000 data logger provided multi-channel logging and control in water catchments, sewer treatment plants and industrial pollution applications. A leader in its time, many are still in use in catchment management and flood warning networks across Australia.

Flo Series II – AgriFlo

1999 – The AgriFlo Series II was the first logging Doppler ultrasonic flow meter designed specifically for remote irrigation monitoring. Developed with our customers, it provides accurate, flexible, low cost flow monitoring in a range of pumped and gravity-fed water delivery situations.

Flo Series 3 – FloPro

2008 – Water monitoring and control has reached a new level with the release of the FloPro Series 3 device. Multiple water flow and quality sensors can be recorded by a single, rugged, vandal resistant unit. Analogue and digital outputs, in conjunction with telemetry options, provide industry standard interfaces to remote monitoring and control systems.