"They tell me I gotta measure my water right.

Get it right first time with a MACE AgriFlo XCi"
---
AgriFlo XCi – Smart packaged flow metering
Water meter and farm monitor in one package
The AgriFlo XCi can be used to monitor vital farm equipment and on-farm sensors. Use the versatility of AgriFlo XCi to monitor inputs as diverse as: irrigation flows; farm wastewater flows; water quality; dam levels; soil moisture; pump and engine management systems.
AgriFlo XCi is easy to install, easy to use and virtually maintenance free. Utilizing state of the art MACE Doppler ultrasonic velocity sensors, AgriFlo has no moving parts and provides minimal obstruction to the flow. MACE Doppler ultrasonic velocity sensors excel in trash laden water and animal waste which means that the meter stays in service longer without time-consuming repairs.
---
Features
Multiple cards for multiple sensor applications
The AgriFlo XCi (multiple card interface) allows the user to efficiently monitor an array of irrigation flow and vital on-farm sensors. It's a smart packaged monitoring solution that provides remote data access with alerts and alarms. It's also telemetry-ready for effective low cost control and rapid response. Users can install any combination of the MACE cards shown, in the five available card slots.
Choose the right card/s for your application to tailor the AgriFlo to your exact farm requirements now and in the future.
---
Cost effective flow metering
MACE offers the flexible, true value metering solution. When comparing flow meters, consider the TOTAL COST of the flow meter, installation and ongoing maintenance.
In similar sized pipes, AgriFlo XCi is significantly cheaper than other comparable high quality solutions.
AgriFlo XCi is easily installed into existing pipework whether above or below ground – no expensive fittings or re-routing.
A typical single pipe installation can be completed by two people in under two hours.
Because AgriFlo XCi has no moving parts and the sensor cannot foul, there are virtually no ongoing maintenance costs.
Connect up to five flow sensors to a single AgriFlo XCi to reduce your cost per metering point even further. Significant savings for pump stations with more than one pipe.
---
Ready-to-Go straight out of the box
The MACE AgriFlo XCi includes everything you need to get up and monitoring. The data logger, battery and controller/sensor cards are all housed inside the ruggedized weatherproof XCi enclosure. An LCD display on the front face of the enclosure allows the user to view all their site data.
No more hunting around for bits and pieces. In most cases you can be up and monitoring in just a couple of hours.
The XCi system includes:
Ruggedized weatherproof enclosure
Data logger
LCD display
Battery
Solar panel/regulator
Required cards
Velocity/level sensors
---
Access your data remotely with MACE WebComm
The new MACE WebComm card for 3G/GSM gives remote access to your data. This card is powered by and housed in your XCi device. No further cabling is required.
Data is pushed from your XCi device to the MACE Data Server where it is available for retrieval. This LOW-COST remote data service is FREE of any ongoing charges.
MACE WebComm card for GSM/3G gives remote access to your data
Card is powered by and housed in the AgriFlo XCi
Data is pushed from your AgriFlo XCi device to the MACE Data Server where it is available for retrieval on your PC or smartphone
SMS/Email alert subscription service available
---
Easily configure with MACE FloCom+ software
Free configuration and diagnostic software
Powerful, easy to use Windows® interface
Painless point 'n' click channel calibration
No proprietary coding knowledge required


> Watch the video
---
True average velocity measurement with MASP technology
MACE velocity sensors use continuous wave Doppler ultrasound to measure the speed of dirt, bubbles and other particles in the stream flow. MACE Doppler ultrasonic sensors "see" particles in water just like turning on a flashlight in fog.
In a full pipe, electromagnetic or mechanical insertion devices "see" a golf ball sized velocity profile and then use complex algorithms to calculate velocity. By contrast, MACE Doppler ultrasonic velocity sensors utilizing MACE Advanced Signal Processing (MASP) technology "see" across the entire stream profile to give a true average velocity.
---
Easy installation into existing pipe work
Advanced MACE Doppler ultrasonic velocity sensors are easily installed in to your existing pipework. Sensors can be installed into metal pipes, concrete pipes and PVC pipes 4″ to 100″ diameter. Installation through a 2″ ball valve allows the sensor to be easily removed should you wish to move to another site and also means the pipe does not have to be emptied to install or remove the sensor.
MACE Doppler ultrasonic velocity sensors can be installed in to pipework underground and then buried. Perfect for farm turnouts and dairy waste saving costly re-routing of pipework above ground.
MACE sensors also require less straight run then our competitors. 6 diameters in front and 2 diameters behind for a total of only 8 diameters straight run. Our sensors are also able to look both up stream or downstream giving our customers the maxium of flexibility for their installation.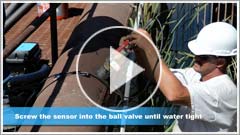 > Watch the video